---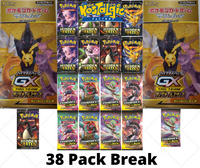 YOU ARE NOT PURCHASING SEALED POKEMON PACKS!
PLEASE  ASK ANY AND ALL QUESTIONS BEFORE MAKING ANY PURCHASES!
THIS BREAK
INCLUDES
 THE FOLLOWING PACKS:
-20 Tag Team GX Packs-9 Hidden Fates Packs-9 Champions Path Packs
-2 Mystery Prizes
You will be put into a Randomizer and be GUARANTEED ONE of the following:
-Fire
-Steel
-Colorless
-Water
-Electric/Dragon
-Dark/Fairy
-Psychic
-Grass
-Trainer
-Fighting
We will open all packs live and you will receive every Shiny card of the Type you have!
$33 PER SPOT
There are 10 Spots in this break
HITS/HOLOS/REVERSE HOLOS GO TO THEIR RESPECTIVE TYPES
ALL BULK IS GOING TO BE EVENLY AND RANDOMLY DISTRIBUTED TO ALL 12 SPOTS
***Even if you don't get any Pulls, Don't worry, you will receive all Holos/Reverse Holos of your type and a stack of Bulk. There are no Losers at The Nostalgic Factory!***