---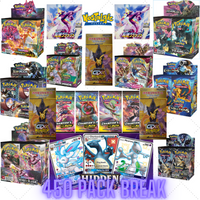 YOU ARE NOT PURCHASING SEALED POKEMON PACKS!
PLEASE  ASK ANY AND ALL QUESTIONS BEFORE MAKING ANY PURCHASES!
36 CHAMPIONS PATH PACKS

36 Sword & Shield Packs
36 Darkness Ablaze Packs
36 Evolutions Packs
36 Rebel Clash Packs

36 Unified Minds Packs

36 Team Up Packs

36 Burning Shadows Packs

36 Ultra Prism  Packs

36 Hidden Fates Packs

60 Rebellion Crash 

Packs

30 Tag Team All Star Packs

12 Mystery Prizes
You will be put into a Randomizer and be GUARANTEED ONE of the following:
-Trainer
-Grass
-Psychic
-Electric
-Colorless
-Fire
-Water
-Fighting
-Steel/Fairy
-Dark/Dragon
We will open all packs live and you will receive every Shiny card of the Type/Codes you have!
$220 PER SPOT
There are 10 Spots in this break
NO CODES IN THIS BREAK
HITS/HOLOS/REVERSE HOLOS GO TO THEIR RESPECTIVE TYPES
ALL BULK IS GOING TO BE EVENLY AND RANDOMLY DISTRIBUTED TO ALL 12 SPOTS
***Even if you don't get any Pulls, Don't worry, you will receive all Holos/Reverse Holos of your type and a stack of Bulk. There are no Losers at The Nostalgic Factory!***